elf
One Night on the Road
is a classic example of "we have a palette of four colors: Grey, black, dark blue, and dark green. We will expand this with pale blue and pale red but only as tiny fragments in the distance." The developer's native language is not English (I have reason to believe it's Russian), which normally isn't a problem, except that it didn't occur to them to find an English beta reader to check their Steam listing text:
One Night On The Road is a quest where you play as a character who ran out of gas in a small town. In search of fuel, he finds a shop where he knock you out down and found himself in a small house. You need to look for items that will help you to get out of the house and leave town.
This looks like an
asset flip
, the video game equivalent of making a book of nothing but Wikipedia articles. (Okay, the assets aren't all free. It's the video game equivalent of a picture book of royalty-free photographs purchased from istockphoto.) In this one, it looks like they bought a "small town at night" package and maybe threw in some combat details.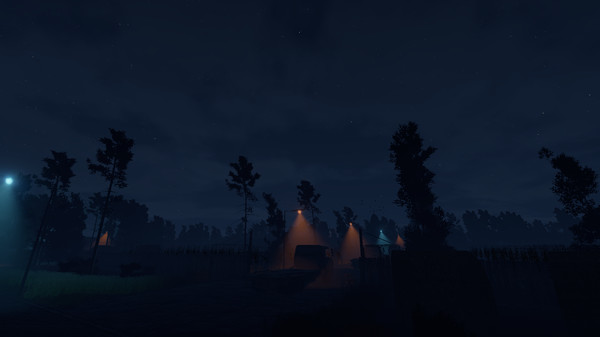 This showed up on my feed because it's tagged "Hidden Object." I like hidden object games. This... does not look like a hidden object game. Normal hidden object games are like
Clockwork Tales: Of Glass and Ink
(a delightful steampunk-ish HO game) or the
Nightmares from the Deep
series (also delightful - ghost pirates). Less-normal HO games include weird mobile and Facebook games that add an energy-use mechanism, so you collect "gems" and need to recharge them to do the searches.
This... this does not look like it has any hidden object features at all. Nothing in the trailer (which involves "driving through spooky empty town at night") or the screencaps implies there are any search-for-items scenes. This might be a point-and-click adventure, or it could be a combat-survival game where you have to find weapons, but mostly it looks like a
walking sim
.
The publisher's other game is a
combat-heavy MMORPG
with microtransactions; it's a year older and pretty much everyone who tried it, hates it. I suspect the only reason ONotR isn't full of hate-reviews is that nobody buys walking-sim HO games just because they show in in the queue. The walking-sim and HO fans, like me, tend to be more selective than MMO players who will grab anything under $10 with the right keywords.
Violent MMORPG players are not (necessarily) less interested in quality, but their ideas of what "quality" means is different. "Has no real plot" is often not a strong negative; "has great shoot-em-up scenes" can outweigh that. For the walking sim people, there has to be a reason to get
this
game and not just replay
Gone Home
or
Home Is Where One Starts
. Both of those are charming. This? This is not charming. This looks like, at best, the opening act of a real game.